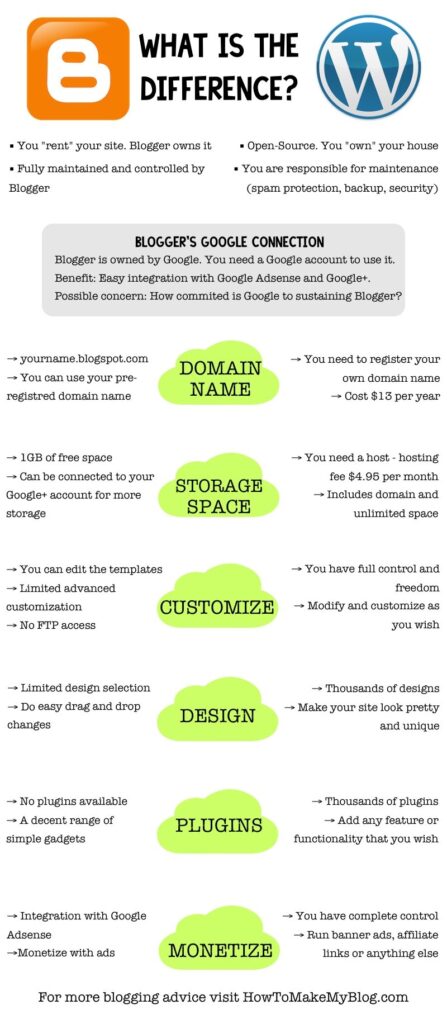 "Blogger Vs WordPress: Which one should I use to make a blog?" is one of the frequently asked questions from newbies.
This comparison will explain to you the differences between Blogger (Blogspot) and WordPress and you will get a better idea of which platform is best for your blog.
WordPress vs Blogger TL;DR: Conclusion
Is this comparison too long for you to read? Here's the Blogger vs. WordPress TL;DR for you:Blogger has far fewer design and functionality features. It also has a less attractive user interface.
Good thing is that everything is sorted for you. It's best for those who want something simple and easy to use to start writing right away.WordPress requires more attention regarding the setup of a great design, features and the maintenance.
WordPress gives you full control but has a medium learning curve. It's best for those who want to build a modern and feature-rich blog.
Blogger Vs WordPress comparison table
Here's the summary in a comparison table.
This gives you a brief comparison between the two blogging platforms by looking at the different factors to consider such as ownership, customization options and monetization: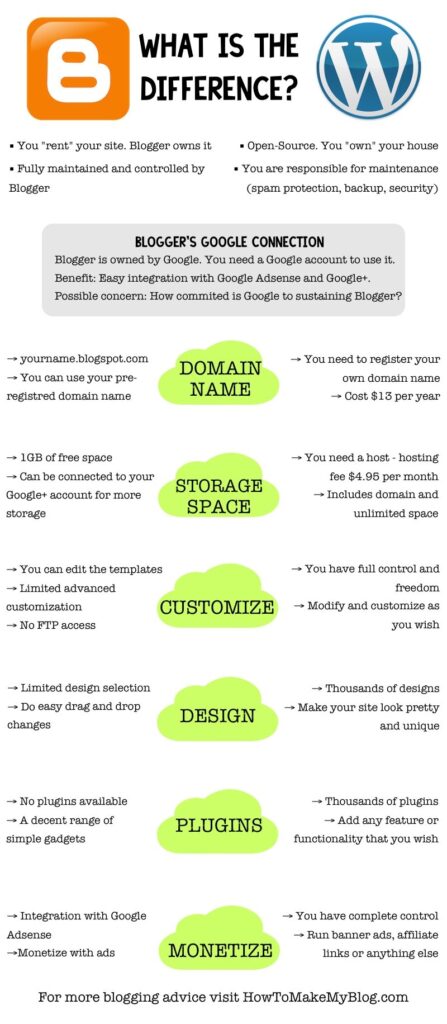 Having a complete control and ownership, the look and feel, and the way I present my content are the main reasons why I pick WordPress. This is where WordPress excels and why it's my preferred content platform.
In the battle of Blogger Vs WordPress, the winner is WordPress.
How to install WordPress
Self-hosted WordPress needs a domain name and a web server to work. A domain name is the address people will type to get access to your blog.
The hosting server is where you'll store your content making it accessible to anyone in the world.
Which host should you use? There are many capable and affordable hosting providers.
The host that I recommend is the one that I personally use and am a paying customer for over a number of years.
The link below is my affiliate link. Simply put, if you click on my affiliate link and start your blog, I earn a commission, yet you don't pay any extra. You even get a discount.
A detailed look at Blogger and WordPress
Ownership
Note that there are two versions of WordPress. The self-hosted WordPress.org and the commercial version at WordPress.com.
In this article, I talk about the self-hosted WordPress.org. See my detailed guide on the difference between the two versions: WordPress.com vs WordPress.org.
Using Blogger is like renting a house while using WordPress is like owning a house. If you run your blog on Blogger, your blog is owned by Google.
A company that owns your blog can simply decide to shut it down without giving you a warning and without even giving you the reason or explanation for their action.
You don't want to risk being in a similar situation. Losing many years of your work without a warning or an option to back it up.
Open-source blogging platform such as WordPress gives you full ownership of your blog and your content and puts you firmly in control.
Control
When using Blogger you need to work within the limits that Google sets for you.
WordPress.org allows you to build anything you can imagine. The open-source community behind WordPress provides many of the unique benefits and advantages of the platform.
The fact that the platform is so adaptable and that it puts you in full control also means that there's a medium-sized learning curve.
You will also need to register a domain name, find a host, and manage the security and backup of your content. There are plugins that will help you with this process.
And how do you monetize your WordPress blog? WordPress is also the king when it comes to making money with your blog.
You are completely free to use any monetization strategy that you want. You can even use Google Adsense on WordPress.
Appearance
WordPress will save you weeks of time and lots of money. You won't need to design or build any feature or functionality from scratch.
There's a plugin or design theme for anything. Most of them are free. All this without needing to know how to code.
There's more than 55,000 free WordPress plugins and thousands of free WordPress design themes for you to choose form.
Blogger hasn't seen any development from Google for a while. The user interface and usability look outdated compared to more modern platforms.
The plugin and theme options are severely lacking too.
This fact makes Blogger not the best option when it comes to the long-term sustainability. It just cannot compare to WordPress, a platform that is continuously upgraded and improved by the active community of developers.
Portability
WordPress allows you full and complete control over your content. There are in-built features to import content but also to export content to other platforms or download all the content to your computer.
A free tool has been developed by the WordPress community to import posts, images and comments from Blogger to WordPress. This "Blogger Importer" plugin was used by more than 500,000 people to transfer their Blogger content to WordPress.
Security
Blogger is a very simple platform. It's easy to use and gets you writing fairly quickly and you don't need to worry about security, hosting, backups or maintenance. Google takes care of that for you.
With WordPress you are running and owning your own site which means you also need to take care of the maintenance and make sure you use strong passwords and you take regular backups.
Luckily enough, the large open-source community has built many features that make all this simple including the ability to automatically upgrade to the latest WordPress version, to automatically take backups but also ways to secure a WordPress site.
Support
Blogger is a free product from a large corporation. The support you can get is very limited.
WordPress, on the other hand, has a very large community of fans and developers who are willing to help.
There are also multitudes of WordPress resources, people willing to help, conferences and meetups.
As of December 2018 WordPress powers 32.5% of all websites online while Blogger only powers 0.8%.
Over 75 million people and brands have chosen to use WordPress to create a broad range of beautiful and impressive sites.
Many of the largest organizations such as Facebook, Google Ventures, eBay, CNN, NASA, and Mozilla use it too.
Future potential
Google just doesn't seem that much interested in Blogger anymore.
One of the biggest concerns around Blogger is that Google just doesn't seem to be that much interested in it anymore. There's a lack of development effort and resources.
Google seems just to patch things up to keep it from completely breaking down. Look at this list of updates. Since the start of 2015, the only significant update was the HTTPS introduction.
In May 2018 they also announced a spring cleaning which for Google means shutting down of features. TechCrunch had this to say to the spring cleaning:
It's surprising that Blogger is still around. I can't remember the last time I saw a Blogger site in my searches, and it sure doesn't have a lot of mindshare. Google also has let the platform linger and hasn't integrated it with any of its newer services. The same thing could be said for Google+, too, of course. Google cuts some services because they have no users and no traction. That could surely be said for Blogger and Google+, but here they are, still getting periodic updates. I think the writing is on the wall, though, and I wouldn't expect them to survive the next major Google spring cleaning.
Some of the few changes Blogger has done in the recent years have negatively affected users. These include trying to restrict users from posting certain types of content and even blocking access from specific countries.
There's a well-documented example of Dennis Cooper's blog. Blogger hosted it for more than fourteen years but suddenly deactivated it.
No explanation was given other than that "specific Terms of Service violations are ones we cannot discuss further due to legal considerations."
Professor and author Allen Downey had a similar experience in September 2018 explaining that his "account had been suspended for violating terms of service, but I got no information about what terms I had violated."
Allen's resulting action was this: "I have moved Probably Overthinking It to a site I control, hosted by a company I pay, a company that has provided consistently excellent customer service. Lesson learned."
Most blogs may not be affected by this but it's important to know that you don't have the full control.
On one hand, Google is one of the most innovative companies. They run great apps such as Photos and Inbox. On the contrary, they've decided that Blogger doesn't fit in their plans.
That's what the lack of updates and innovation tells us. Everyone has seen the fate of Google Reader, Google+ and other apps Google decides to neglect.
WordPress and Blogger pros and cons
WordPress Pros
WordPress is a flexible solution with lots of room to grow and expand your blog.
It's the platform to use if you want the full control, flexibility, and ownership.
It's an open-source software with a vast and vibrant community of developers and designers.
A wide range of design templates to help you create a pretty looking design without the need for design skills. See my guide on how to design a blog with WordPress.
There's a plugin for everything. Make changes and add features without any coding know-how.
Ability to export and import your content to and from other platforms.
Manage your blog from anywhere. In the browser, using desktop clients for Mac and Windows, or mobile apps for Android and iOS.
You can monetize your WordPress blog in any way you want and this includes Google Adsense, affiliate marketing and more.
Blogger Pros
Blogger is a nice place to start your adventure. It can help you discover what it's all about. It's got the basics covered and it's very straightforward and easy to use.
Your default URL is yourname.blogspot.com, but you can transfer your own domain name.
Template Designer makes it easy to change simple things such as background, column width, and change font types and colors.
You can do HTML changes to your template through a browser interface.
No plugins, but a decent number of simple gadgets that you can use to improve your sidebar and footer.
Integration with your Google Adsense allows you to add banner advertising and start making money.
Thanks to Google it's also easy to integrate Analytics and Search Console.
WordPress Cons
Your WordPress install needs a domain name and a server to be hosted on which will cost you about $3 per month.
You are responsible for managing the security, the backups and the uptime.
Too many themes and plugin options demand a lot of time to do research and find right ones for you.
There is a medium-sized learning curve to get used to thanks to the many technical opportunities.
Blogger Cons
It's limited, outdated and not future-proof. If you have bigger ambitions, such as creating a professional web presence or building a business, it's not the ideal long-term solution.
Google owns Blogger which means that you don't own your content. You risk having your blog shut down without warning or explanation.
Limited choice of design templates means it's hard to make your blog design look different and unique.
You need to have a Google account in order to use Blogger.
How to transfer your Blogger blog to WordPress
Sometimes the time is right to move your content from one platform to another. You may have outgrown the platform.
You may want to do a change that the platform doesn't allow you to do, or you may just need a fresh place to work in.
Blogging platforms are flexible. It's possible for you to export or import your content from or into other platforms.
The question of which blogging platform is best for you is answered. You have a WordPress blog ready and installed.
It's now the time to transfer your Blogger content to it. It is simple to transfer your blog from Blogger to WordPress. The open-source community of WordPress is ready to welcome Blogger users.
Following is the step-by-step guide on how to transfer your content from Blogger to WordPress. All this without losing your subscribers, search engine rankings and traffic.
In your new WordPress Admin area go to Tools > Import in the left-hand sidebar. Click "Blogger" and on the pop-up window click "Install Now".
Then click on "Activate Plugin & Run Importer".
Now click "Authorize" to tell Blogger to let your new WordPress account access your Blogger account.
(Note that if you get an error message about Google no longer supporting OAuth 1.0 use this plugin instead: Blogger Importer Extended.)
"Allow Access" to your Google Account.
Then "Import" to start the transfer process of your Blogger posts, comments, images and links to WordPress.
Click on "Set Authors" button after completion.
Select the user you'd like to assign the posts to and click "Save Changes" on the "Author Mapping" page. This assigns all the imported posts to your author name in WordPress.
In Settings > Permalinks in your WordPress admin make sure to select the URL structure to fit the structure you had on Blogger.
Congratulations! Your Blogger content now lives in WordPress.
How to redirect your Blogger visitors to WordPress
Now we need to tell Blogger where your new WordPress blog address is. This way you will automatically redirect visitors and subscribers but also keep your search engine rankings. Here's how:
Activate "Blogger To WordPress" plugin made by rtCamp in your WordPress admin.
Go to Tools > Blogger To WordPress Redirection in your WordPress admin.
Click on the "Start Configuration" button.
Click on the "Get Code" button next to the correct blog on the list of imported Blogger blogs.
Copy the generated code.
Go to "Template" menu and click "Edit HTML" on the theme you are using in your Blogger Dashboard.
Paste the copied code replacing all the existing code in the template and click on "Save Template".
Check that everything works by entering your Blogger homepage or one of your old Blogger post URL's in your browser. It should automatically redirect you to the new WordPress URL.
Never delete your Blogger as it continues to redirect your visitors.
In Blogger Dashboard go to Settings > Other.
Click "Add" in "Post Feed Redirect URL"  to enter your WordPress feed URL (yourdomain.com/feed/ by default)
Click "Save Settings" to redirect your RSS feed subscribers to your new feed.
Your Blogger content now lives on your new WordPress blog. The search rankings are intact. Your visitors (and subscribers) see your new URL when trying to access your content.
You are ready to promote your blog. The admin dashboard is where all the day-to-day magic happens. Explore the opportunities and possibilities for your new WordPress.
Final thoughts and the wonderful benefits of having a blog
Blogging is such an excellent activity and a great way to spend your free time. There's a great value in having your online presence and building an audience.
I recommend it to everyone and I hope that you will get to experience some of the great benefits. It's amazing to see all the people take up blogging, start their blogs, and share their skills with the world.
I've experienced many wonderful benefits of having a blog. It has made an incredible difference in my life.
I've met new people, became a better writer, communicator, marketer, and even got a new job thanks to my blogging efforts.
Whatever blogging platform you choose, you have my full support. Either of WordPress and Blogger will allow you to quickly start your blog and have an online home where you can share whatever is on your mind.
Blogging industry also includes Squarespace which powers 1.4% of the web (see my Squarespace vs WordPress), Wix which powers 1% (check the WordPress vs Wix comparison) and many others.