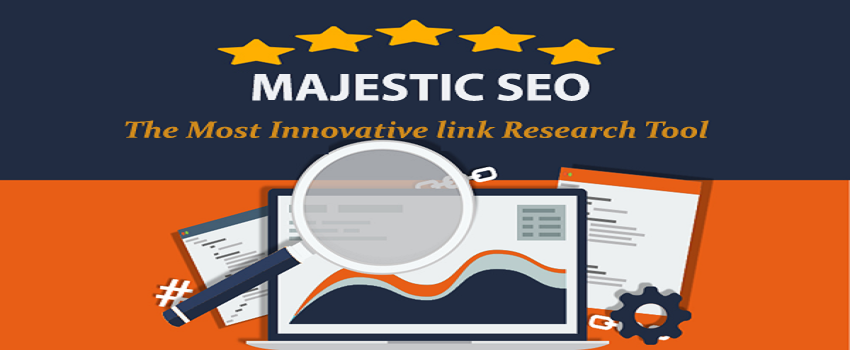 If you're in any way interested in SEO then you need to know there's a plethora of tools available, so many in fact it can be daunting. But any good SEO will have a core set of tools they refer to on a daily basis, and one of mine is Majestic SEO.
What Is It?
Majestic SEO, known as 'Majestic', were founded in 2004, in the UK. Since then they've grown into one of the world leaders in backlink checking for SEO. It's safe to say they're worth a lot of money, as their price points start at £29.99 (€39.99 US$49.99) per month.
How Does It Work?
Majestic maps the Internet and has created the largest commercial Link Intelligence database in the world. Their 'bots' crawl the Internet, revisiting web pages and around a billion URLs each day pass through their database. This all means they have a pretty good understanding of a huge part of the Web.
The bulk of their data revolves around backlinks, and they've added their own metrics to each backlink to score it according to Trust Flow and Citation Flow, which are both trademarks owned by Majestic. Since Google stopped reporting PageRank in 2013, Trust Flow has been one of the main indicators of a domains value.
What's It Used For?
The main reason SEOs use Majestic is to check the backlink profile on domains. There are lots of reasons why you would want to check the backlink profile of a domain, such as:
You are thinking of buying it.
You are thinking of reaching out for a link.
You are competing against it in the SERPs.
You are carrying out an SEO campaign on it.
You are looking for places to acquire links.
With Majestic you can see how many links a website has, which pages they're aimed at, and who exactly is linking to them. This is vital in the SEO industry as we need to assess our competition on a regular basis. By looking at the backlinks of our competitors we can get a handle on what we need to do to compete, and ultimately surpass them on Google.
How To Use It
Like most tools Majestic can be as simple or as complicated as you want it to be. To check the backlinks on a domain you simply add the URL into the address bar.
Hit the search button and you'll see a whole wealth of information about that domain.
The image above represents a search on my own site. As you see it's a relatively new domain and the results are pretty modest. You can do a search like this for your own website and over time you'll (hopefully) expect to see more links pointing at your domain.
As you see the results give a Trust Flow and and Citation Flow score. It also gives a summary of who is linking to you and a pie chart indicating your anchor text ratio.
Flow Metrics: Trust Flow and Citation Flow
Majestic have developed their own flow metrics to sort out the differences between domains.
Majestic says:
Flow Metrics are produced by studying how various metrics alter as they flow through the link graph. This technique provides an indication of how sites compare within the context of the internet ( or, at least, the part of the internet we have crawled and indexed ).
Citation Flow predicts how influential a URL might be based on how many links it has. So the more links your page has, the higher its Citation Flow will be.
Trust Flow predicts how 'trustworthy' a page is, based on the assumption that trusted websites tend to link mainly to other trustworthy websites. So the more trustworthy websites linking to you, the higher your Trust Flow will be.
It's all based on a number of assumptions but works remarkably well. For instance the BBC can be considered a trustworthy website, and this is indicated in its flow metrics.
Years ago SEOs use to judge a domains weight by its Google Page Rank, which is a scale between 0 and 10. The BBC was a PR10. But Google knew this was influencing the way SEOs did business, so they stopped making their Page Rank score available to the public. This left SEOs scattering in the dark wondering which domains were good to get links from. Majestic's Trust Flow does a pretty good job of adding some clarity and now we can see if a website has lots of backlinks and a high Trust Flow, then it probably has quite a good Page Rank.
Fresh and Historic Index
If you look closely in Majestic you'll see there are two sets of results, Historic and Fresh.
Their reasoning is this:
Our Historic Index is one of the most comprehensive sources of backlink data on the Internet. As such, despite our huge processing power, the index takes many days to build – ensuring that it is always a few days behind what is happening now. In order to address this, we have created a smaller, separate index which we call the 'Fresh Index'. As this index is smaller, we can update it more often, and thus it can be kept more up-to-date.
So the Fresh index is a snapshot of the domains most recent activity, whereas the Historic index is the overall data which might be a little out of date. Personally I look at both to get a general idea, but if I had to pick one I'd look at the Fresh results.
If you look at the screenshot above (my own domain) you'll see I've got less links in the Historical index than I have in the Fresh. Another website might be losing links and it'll have less in the Fresh than it has in the Historic. So to gauge a websites overall backlinks you should really look at both.
Using Majestic For Link Building
Majestic SEO is great for discovering link building opportunities. For example if I wanted to rank for the key phrase 'seo company', I could do a Google search and pick out the top ranking domain. I then add this to Majestic and click the Backlinks tab, which will give me a long list of pages that link to that domain.
I can then study these pages and look for website where I might also be able to get a link.
Not only that but by looking at a domains backlink profile you can get a good idea of their SEO strategy. In the example above I notice the domain (which I've hidden) are using a lot of Web 2.0s in their strategy.
Using Web 2.0s is similar a to reverse parasite SEO, which is too big a subject to cover in this article. But it basically means creating free accounts on websites like Tumblr, and adding content which contains a link back to your own website. It can be classed as 'grey hat' at best, and isn't recommended practise, but it clearly works as the domain above rank for some highly competitive keywords.
It's insights like this that make Majestic an invaluable tool for SEOs. There are lots more things you can do with it, including bulk domain checking and reports to export data. But the basic functionality is enough to give you some critical information about yours and other peoples SEO practises.
It's free to use, but is restricted to only a few searches per day on the free version. But this is enough for most people dabbling in SEO. If you're serious about making money online then it is worth upgrading to the paid version. It's not cheap but if you're using it to make money it's well worth the price.