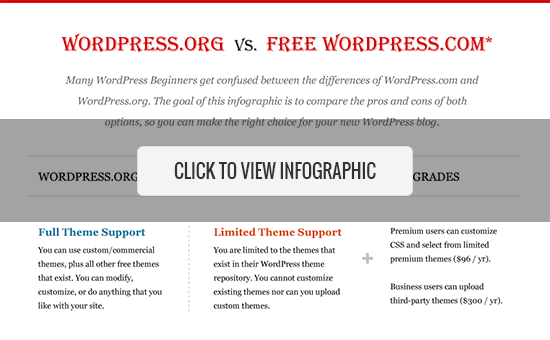 Not only can I use it for my blog, but I use it for building websites, too.
But that is not what I am writing about today.
I've been hearing a lot of people ask why it's better to self host rather than setting up a blog for free on services like Blogger, Tumblr and WordPress.com.
So, today I am going to share with you what I feel are the pros and cons of self hosting your blog vs setting up a free blog elsewhere.
Because I am a WordPress snob (yes, I admit that freely), this post is primarily about, well, WordPress.
To answer the title question, I self host my WP blogsite because I want 100% control of what I write! And all traffic going to my blogsite gets credited to ME! That is the bottom line!
Pros of Self hosting
You are in 100% control of your blog — this is especially important if you are using it for your business
ALL traffic going to your links go to your domain, not someone else's
There are thousands of custom theme options and plugins available both free and premium
You have access to your database and can make changes if you need to
Self-hosting builds trust, credibility and confidence for your business.
Cons of Self hosting (if you want to look at it negatively.)
You must acquire your own hosting — yes, this has a cost. Do your research. There are great hosting services out there.
Depending on your hosting service, you may have to manually install WordPress. However, most hosting services use Fantastico or other One-click installations of available software in your hosting package. I love one-click installs — no fuss, no muss! Set up your username and password and you are off!
If you don't want spam, you do need to add certain plugins to your WP site — Akismet comes pre-installed, you just need to activate!
You do need to install plugins that help with security on your blog as well. Check out my post "Keeping Your Blog Secure" for my suggestions.
Here are some "pros" of free blogging sites
It's free — there is no cost. Free blogging sites do have pro or premium add ons, but you still need to follow their TOS (Please read these carefully!!)
anti-spam, security and database backups are done automatically for you
And here are the CONs of free blogging sites
Nothing is really free — you DO NOT have 100% control of what you write or NOR do you retain 100% of the rights to your work — again, READ THE Terms of Service. If you are using these for your business, you are not allowed to sell directly from your blog.
You are restricted to the themes you can use and some services do not let you customize them, although there are premium or pro add ons available for some free blogging sites — again, something to pay for. So why not just self-host????
You are not able to modify the PHP code
You are restricted to what plugins and widgets can be used
You get no credit for traffic — NONE! All traffic credit goes to who your blog is set up with (Blogger, Tumblr, WordPress.com, LiveJournal, etc.)
Just for clarification, there is a difference between wordpress.com and wordpress.org ~ the dot com is the free service operated by Automattic and the dot org is all about the software platform, as well as where you find plugins and themes to use for your self-hosted WP site.
I hope this helps any of you trying to decide which way to go.
However, if you are using WP or any other blogging service for your business, the BEST option is purchase your domain, pay for hosting and set up WordPress on your hosting service!