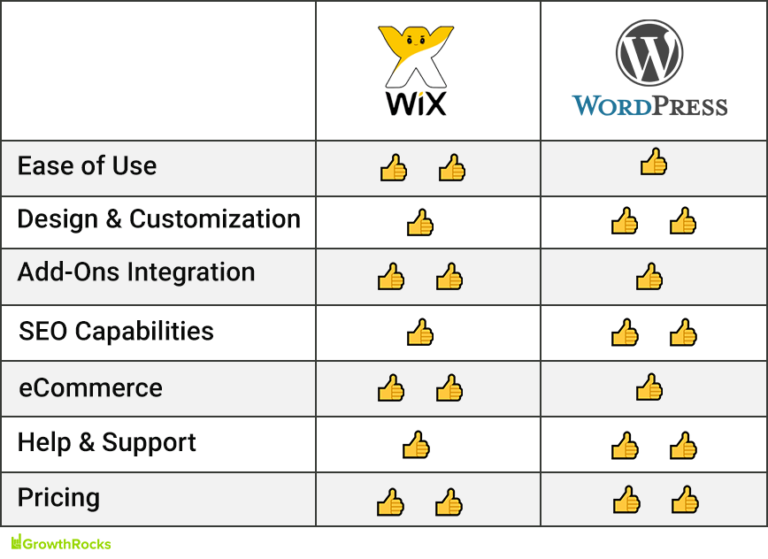 Looking to start a site and choosing between WordPress and Wix as your blogging platform? This Wix vs WordPress comparison will help you decide which website builder is best for you.
Wix vs WordPress: Conclusion and summary
Wix is simple to start and easy to use. If you're a business that needs a simple website and you don't plan to update it much, Wix is perfect for you.
For other uses, Wix is just very limiting. It forces you to stay within the boundaries they have set and you lack the control you need to scale a site or to build an online business.
WordPress allows you complete freedom and control to build a blog or online business that you want. This is the control and adaptability that you lack with a proprietary site builder such as Wix.
It's an open source project that powers 32.5% of the web. This is why my recommendation is to go with WordPress.
How to get started with WordPress
There is no cost for WordPress itself but you do need a domain name (the address people type to get access to your blog) and a web server space (the computer that delivers your content when requested by a visitor) to run it.
Which host should you use? There are several capable and affordable hosting providers.
The host that I recommend is the one that I personally use and am a paying customer for over a number of years.
The link below is my affiliate link. Simply put, if you click on my affiliate link and start your blog, I earn a commission, yet you don't pay any extra. You even get a discount.
What is Wix?
Wix was founded in 2006 in Tel Aviv, Israel and has been publicly listed company since 2013. Wix helps small businesses build and operate their sites.
It offers some basic features for free and you must pay to upgrade for other features. Wix projects their yearly revenue to be just under $600 million.
You may have heard of them thanks for their large marketing budget and massive advertising campaigns online and offline.
Wix is actually very good at communicating and marketing their services, unlike WordPress that is a community run project.
What is WordPress?
WordPress is a free and open source content management system founded in 2003. It's all publicly accessible and anyone can participate, inspect or modify it.
There is a community of thousands of developers and designers enhancing WordPress with design themes and plugin extensions.
Note that I'm talking about the WordPress.org, the self-hosted version of WordPress.
WordPress.com is a managed platform and has some of the same pitfalls as Wix. See here the full details on the difference between WordPress.com and WordPress.org.
WordPress is the clear winner in terms of usage and popularity. It is the largest and most widely used content management system and site builder online.
32.5% of all the websites on the web use WordPress while only 1% of all the websites on the web use Wix.
Flexibility and customization
By using Wix you and your site need to fit within the ideas that Wix has.
Wix is a perfect solution if you're a small business (say a restaurant) and you want a quick one-page site with static content where you list your address, contact info, menu and an option to book a table.
This simple site will take you a few minutes to create and you can pretty much forget about it and focus on your offline business instead.
The main benefit of using open source software such as WordPress is the fact that it allows you the flexibility to build a site in any shape or form and for any purpose that you wish.
You don't have to fit your site in the way that someone else thinks it should be.
Starting a blog with WordPress means that you have a whole host of opportunities and options. This brings a bit more of a learning curve but it also future proofs your site no matter what ideas you might get in the future.
This allows you to build a brand, an audience and an online business from your site which may not be as easy on Wix.
Control, ownership and portability
You don't really own your site with Wix. You are simply just a subscriber and just a customer. When you stop paying you also lose access to the extra features that the paid subscription provides.
Wix also doesn't allow you to have any portability and export opportunities with your content:
Your Wix site and all of its content is hosted exclusively on Wix's servers, and cannot be transferred elsewhere. Specifically, it is not possible to export or embed files, pages or sites, created using the Wix Editor or ADI, to another external destination or host.
With WordPress, you are fully in control. You own your site and your content. You have full freedom to import or export content.
You can take your site and your content anywhere you want at any time that you want.
Ease of use when site building
Wix is simple and easy to use. With its artificial design intelligence (ADI) feature, you can have a tailored and useful site by simply answering some questions and adding some information about who you are and what you do.
This simplicity and ease of use are good on one side, but on the other side, Wix provides very little flexibility.
If you can find a perfect template and adapt your needs to that template you will be happy with the design Wix offers.
But it is difficult or even impossible to easily switch between templates, and removing parts of a template that you may not need means that you may be messing up the way the layout was meant to look like.
Any custom work is not possible either.
WordPress also features several different options for site builders which make it just as simple to start a site as Wix with different ready-made templates and drag and drop elements.
There are also many simple themes that specialize in different areas such as restaurant websites or online stores.
Features (Design, apps and plugins)
You can pretty much do whatever you wish with your WordPress site and blog. There are thousands of free design themes and more than 55,000 thousands of free plugins available in the official WordPress directory.
These do not include the majority of premium themes and plugins.
You can make your blog design look the way you want to. Your imagination is the limit. There is a plugin for anything.
These themes and plugins are all free and it is easy to activate them and test them on your site. It is just as easy to switch between them or turn them off. Your content stays the same and you don't risk losing anything.
Plus there is a large community of thousands of websites and other WordPress users out there available for you to get help or inspiration from. My blog is just one of them.
The open source community is the strength of WordPress. None of the other commercial and proprietary platforms come even close to WordPress.
Who's best for blogging?
Wix is a site builder first and foremost. They have a blogging feature too but it is not their main product nor their first priority.
What does this fact mean? It means that the Wix blog is a very simple platform without much flexibility and extensibility.
It is OK to do a blog post or two every once in a while but it is inadequate if you want to run a strong blog in a competitive industry.
WordPress started as a blogging platform and keeps having the blog as the main product so WordPress is a clear winner here.
Ecommerce functionality
Wix has a premium plan which allows you to add ecommerce functionality to your site. It features many templates and makes it simple to start selling and accepting payments online.
WordPress has an ecommerce functionality too called WooCommerce. It is free to use, it is well integrated and supported by WordPress and features many ways to improve and extend your ecommerce business.
Who's best for SEO?
Wix sites did use to have major issues with Google and search engine optimization but most of that has been fixed now. John Mueller of Google is on the record saying that "Wix websites work fine in search".
Google can crawl your Wix site
You can add page titles
You can add descriptions
You can change URL slugs
You can add alt tags on your images
You can do 301 redirects
Your site has HTTPS enabled by default
You can enable Google's AMP with one click
You can connect your site with Google's Search Console
You can create and submit your sitemap
Blog SEO is not that strong with Wix
One of the main critiques for Wix SEO is on the blogging side of things.
If you run a blog on Wix, you are not able to add any headings to your content. You have your main blog post title but you can add any other H1, H2, H3 or other headlines.
This is also one of the most requested features and something that is an integral part of doing blog SEO.
The SEO options available to you on Wix are not as extensive as those for WordPress SEO but the basics are covered and you won't have too many issues getting Google to index and rank your content.
You do need to upgrade to a premium plan that includes your own unique domain name and that has no Wix advertising to get the most out of the Wix SEO.
WordPress solves majority of technical SEO issues
WordPress, on the other hand, has a long history of praise from Google for being an SEO-friendly platform that automatically solves the majority of technical SEO issues.
Thanks to the open source community, there are many WordPress plugins that you can activate in order to help you fully search engine optimize your site.
There are plugins that can analyze your writing and give you advice on how to optimize your posts to have higher chances of ranking in search
There are plugins that make it easy to mass change your URLs and links. There are plugins that help you do better internal linking
There are plugins that make it easy to remove any broken links
There are plugins that make it easy to compress your images as you upload them to your post
There are plugins that can help you speed up your blog loading time
This is where WordPress excels for SEO compared to Wix.
SEO conclusion is that both platforms do basic SEO very well, but WordPress has all your bases covered even for very competitive industries and for blog SEO.
It can even be easily extended for whatever needs that may arise in the future.
Customer support
Wix is a large for-profit business. You pay them good money to host your site for you. This means that they have a customer support team who's there to help you and answer any questions you might have.
WordPress is a community run blogging platform. It is a free to use so there is no official customer support team. Instead, there is a large and vibrant community of people who are willing to help.
My blog is one of the places where you can learn about WordPress and get answers to some of your questions. The host that you choose to run your blog on will also have a professional customer support team that you can use.
Ongoing maintenance and security
Wix will keep your software up to date, will keep your site safe from hackers and will keep your site online and backed up at all times.
With WordPress, you're self-hosting your site which means that you need to manage your WordPress.
You need to keep your software up to date, do maintenance such as plugin upgrades, and also make sure to keep your site safe and backed up.
These all can be solved with free and automated plugins though. But you do need to automate these while on Wix you really have no maintenance to worry about.
Future potential
A real risk you are running with by using Wix is the possibility that as you grow and develop your site you may outgrow the options that Wix provides you with.
It's a big risk as it will be pretty much impossible to simply export and take your site and content with you from Wix to another site builder in the future if you choose to do so.
There is no export feature. You may need to build a lot of things from scratch again.
WordPress, on the other hand, makes it easy to import or export content at any time that you wish.
So Wix is a quick and easy option for those who just need a small static website and have no bigger ambitions with that site and don't plan to extend it in the future.
Pricing and cost: How much does it cost to build a website?
WordPress is free to download and to use. It does require you to get a domain name and a hosting server in order to make your WordPress site accessible to other people online.
This costs as little as $2.95 per month thanks to the deal you can get on my blog. Take a look at my how to start a blog guide to learn how to install WordPress and get your blog online today.
Is a Wix website really free?
Wix has a free plan. This is what you get with it.
Your site gets hosted on the Wix domain (yourname.wixsite.com)
You get 500MB of storage for your files
You get 1GB bandwidth (the quantity of data allowed to flow from your site to your visitors)
In return for the free plan, Wix places advertising on your site
So the answer is yes, you can really get a Wix website for free but it comes with several limitations.
You can upgrade to a paid plan at any time.
The cheapest premium plan that allows you to remove the advertising is the "Combo" plan at $8.50 per month. With this, you get a free domain name, 3GB of storage and 2GB of bandwidth.
This plan could work for a beginner but 2GB of bandwidth may not get you far if you start getting visitors on a media heavy site.
For $12.50/month, you get 10GB of storage for your files, unlimited bandwidth and a form builder app which allows you to add contact forms and collect leads on your site.
This "Unlimited" plan is a comfortable plan for most beginners.
If you do want to add an online store and use your site to sell products online, you will need to go for the "eCommerce" plan at $16.50 per month.
The most expensive is the "VIP" plan which allows you to do ten email marketing campaigns at $24.50 per month.