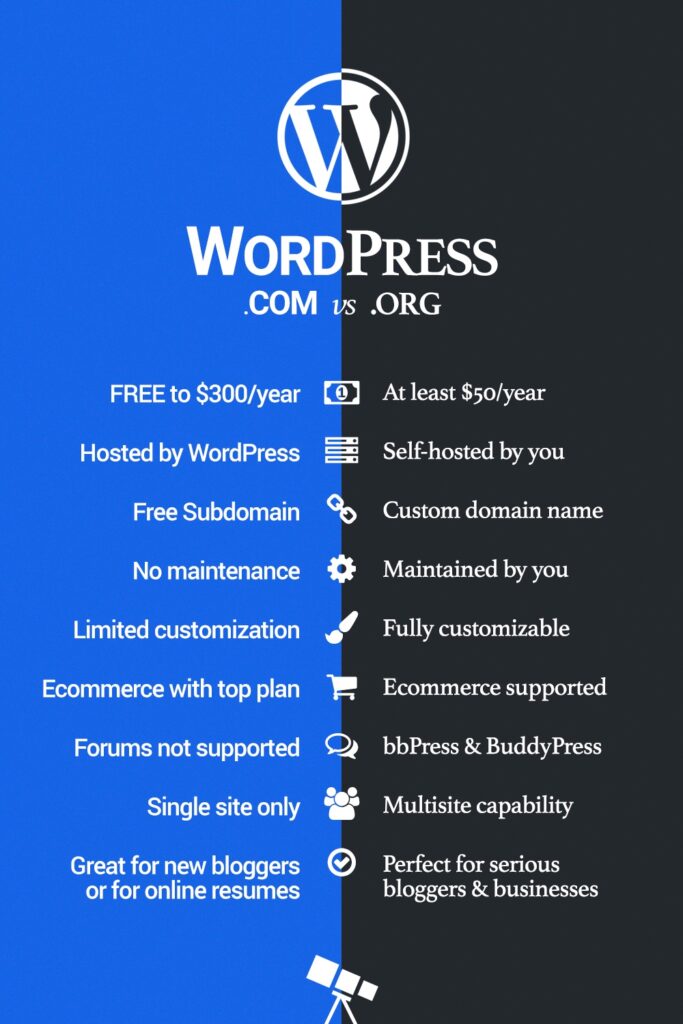 The two WordPress versions, one of the best blogging sites, are not the same. This WordPress.com vs WordPress.org comparison has all the facts you need to make an informed choice.
WordPress.org is the home of the free open-source and self-hosted platform, while WordPress.com is the hosted and commercial version.
The difference is like owning or renting your house (or your blog).
This causes some confusion for newbie bloggers when choosing which one to use when starting a blog. This guide will help you make the correct decision for your own blogging adventure.
Self-hosted WordPress vs hosted WordPress: At a glance
The guide is too long for you to read? Here's the TL;DR for you:Hosted WordPress.com has far fewer design and functionality features and a less attractive user interface on a free plan but everything is taken care of for you.
It's best for those who just want something simple and easy to use to start writing on straight away or for those who don't mind paying up to $25 per month for the full package. Self-hosted WordPress.org requires more attention in terms of setting up great design, features and security, has a medium learning curve but gives you full control.
It's best for those who want to build an extensive and unique blog or business all for about $3 per month.
WordPress.com vs WordPress.org: What's the difference infographic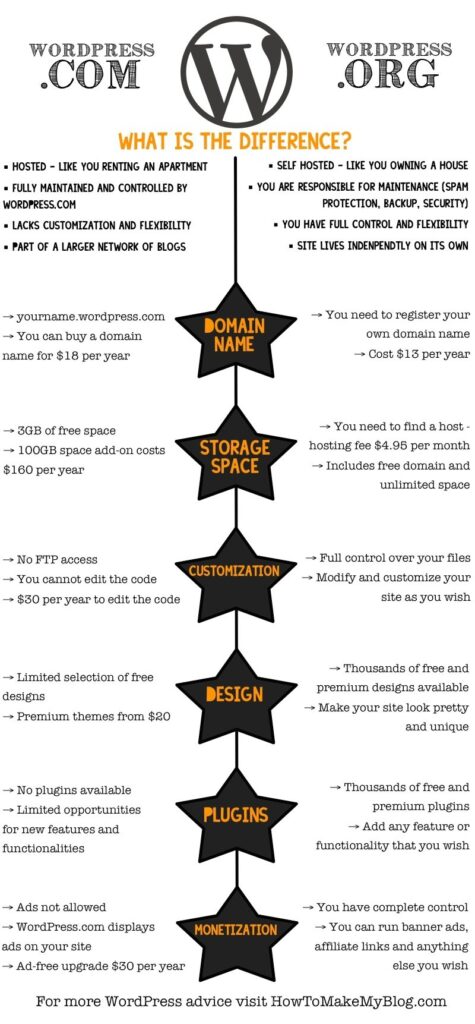 Why I recommend WordPress.org over WordPress.com
In the question of WordPress.com vs WordPress.org, I recommend you go for an open-source platform like WordPress.org and self-host your blog on your own domain name and your own hosting space.
Self-hosting platforms are more author centric and more robust. Then and only then you would have the full flexibility, control and ownership over your blog and your content.
You will be the boss and will be able to decide how you want to run your blog
I love WordPress.org and definitely recommend it for new and more advanced bloggers alike. I run all my projects on WordPress.org and so do more than 75 million of other bloggers and brands.
WordPress.org must be installed on a web hosting server to work. There are several capable and affordable hosting providers.
Which host should you use? The one that I recommend is the one that I personally use and am a paying customer for over a number of years.
The link below is my affiliate link. Simply put, if you click on my affiliate link and start your blog, I earn a commission, yet you don't pay any extra. You even get a discount.
WordPress.com summary: All-inclusive with all the basics covered
Here's the summary:
WordPress.com uses the software which you can download at WordPress.org
Simple and easy to use with all the basic features and services included for free
You get your web space and can start your blog within minutes
All-inclusive so you don't need to worry about a hosting server, software updates or security maintenance
You get URL like myblog.wordpress.com but there is a paid upgrade to have your own domain name for $18 per year
You get 3GBs of space for storing your files and images but additional space costs $160 for a year for 100GB
It has a limited selection of free design themes
It does not permit uploading of additional design themes and plugins (unless you upgrade to a Business Plan)
You cannot edit HTML, PHP code, or content of a theme which makes it difficult to create something unique in the look and feel (unless you upgrade to a Premium Plan)
FTP access to your blog is not included either
Having access to customize your CSS design costs $30 for a year
You don't have full control over monetization of your blog. Adsense, affiliate links and other external banners are not allowed
It displays advertisements on your blog unless you buy an Ad-free Upgrade which costs $30 for a year
Has a community so you might get visitors straight away without doing too much marketing thanks to the network effect
All in all .com version of WordPress is a nice place for any beginner blogger. It's a great way to get you introduced to publishing online.
It's a good job done by the people behind the company but you won't have too much flexibility there and you won't be able to monetize your blog unless you choose the WordAds platform.
For all the more interesting aspects of WordPress, you will need to upgrade to one of the paid plans.
Do you want to use your own domain name and remove the WordPress banner advertising? That would be $4 per month.
How about the ability to edit your blog design and monetize your content with ads? That's $8 per month.
How about the ability to install custom design themes and plugins? The price is $24.92 per month.
Due to their nature (all-inclusive and simple to use for anyone) hosted platforms are limited when considering flexibility and extensibility of a blog. This can become a problem.
Depending on your ambitions, working on hosted platforms will eventually lead to issues that will limit the potential and opportunities you have with your blog.
You will see some of the similar problems on other hosted platforms such as Blogger, Wix and Squarespace. I have gone into further details on these in the WordPress vs Wix comparison guide, my guide to difference between Blogger or WordPress and the WordPress vs Squarespace.
You may not worry about these issues in the early days, but on your way to building an online presence you will outgrow the hosted platform.
Your prospects in terms of growing your blog and achieving something more with it are not too good at a hosted service like this.
WordPress.org summary: Full control and ownership
Self-hosting is considered a preferable method for these reasons:
On WordPress.org you download the software
You need to install it on your own domain name and hosting server
You have the complete control, ownership and flexibility over your blog
You can install any design theme or any of the many plugins (see my guide on how to design a blog)
You can run any ads that you want. You decide if you want to monetize your blog and how you want to monetize your content
You can edit the database and change different CSS and PHP files and codes
Having full control over your work means having freedom to set your own rules and limits. You can completely decide the look, feel and functionality of your blog
You can decide what to post, in what format, what words to use and which images and videos to use. Nobody is monitoring you and nobody places any rules or restrictions on your work
There are no risks in getting your blog shut down because of external decisions
Nobody but yourself can use your content to promote a service or a product, or to make money. Your content is yours. You own it, not a corporation
You own your blog and your domain name for as long as you continue renewing it and you can move between providers as much as you wish
It is a permanent home that always works and that you can depend on
The brilliant thing about it is the large community of people modifying it and adding on to the software. Open source software thrives on ideas from the community and so does WordPress.
You gain from the community by having access to a large number of free design themes and thousands of plugins that can add advanced features and new functionality to your blog without you needing to spend a lot of money or having technical and design knowledge.
You gain on great innovation too such as the new WordPress Gutenberg editor that many in the community have contributed to.
It is best to get off on the right foot and not need to make drastic changes later on when your blog is more established as that could negatively impact the work you have done with regards to search engine rankings and audience.
In any case I have also included full step-by-step process you need to move your blog from WordPress.com to the self-hosted version without losing any traffic and search rankings.
If you're looking for a flexible blogging solution with lots of different design and functionality options, room to grow and expand your blog, self-hosted WordPress is the way to go.
WordPress.org is free and allows you complete control and flexibility. There is a community of thousands of volunteers who create free designs and plugins that allow you to create a blog that you want.
You completely control everything about it, you can run any ads, you can edit all the files and you can end up create a unique looking design. It's a great piece of software and definitely recommended.
How to move from WordPress.com to WordPress.org
If you started your blog on WordPress.com and are now thinking about making a move over to the self-hosted version you are in luck.
The process of moving a blog and all the content from .com to .org version is pretty simple and can be done in few minutes thanks to the WordPress Importer plugin. The plugin has been used by millions of bloggers already.
Thanks to the blog redirection feature you will still keep your visitors, your subscribers and your search engine rankings. Here is my step-by-step guide:
Sign in to your WordPress.com account. In the navigation go into "Tools" and click on "Export". Choose the free option.
Here you will be able to download an XML file of all your existing content. Choose "All Content" as that will save all your posts, your pages, comments, navigational menus and such. Click on "Download Export File" to save the XML file on your computer.
Log into the admin area of your new WordPress.org hosted blog. In the navigation menu go into "Tools" and select "Import". In the list of different import opportunities select WordPress.
Click "Install Now" on the WordPress Importer pop-up window.
After the plugin has been installed click on "Activate Plugin & Run Importer".
This is where you need the XML file that you have downloaded from your WordPress.com. Click "Browse", select the file from your computer and click on "Upload file and import".
After the file has been uploaded you will have the opportunity to assign authors to the content. You can either assign the content to a new user you can create on that page, you can assign content to an existing user or you can even import the existing author from your WordPress.com.
Last but not least click on "Download and import file attachments" under the "Import Attachments" heading and click on Submit.
Import of your WordPress.com content into WordPress.org has now been done. All your old content now lives and is accessible on your new blog.
Redirecting your old WordPress.com blog to the new WordPress.org domain name
In order to retain your traffic, subscribers and search engine visitors you should redirect your old blog to your new blog.
In the spirit of WordPress.com not even that is free. You need to go into the "Store" in your WordPress.com admin.
You need to buy the "Site Redirect" add-on for $13 per year to forward all the traffic to your new blog. Click on "Buy-Now".
Click on "Buy-Now" in the Site Redirect pop-up window.
Here you will get the site redirect option. Type in your new domain name and click on "Redirect To This URL".
Do confirm that the new domain name is correct and click on "Yes, redirect it".
Type in your credit card or PayPal details and click on "Purchase Site Redirect For $13.00 USD" to finalize the purchase. Note that your order will be renewed automatically one year from your purchase but that you can disable automatic renewals at anytime in your settings.
That's it! Your have an answer to the WordPress.com vs WordPress.org question. Happy blogging!