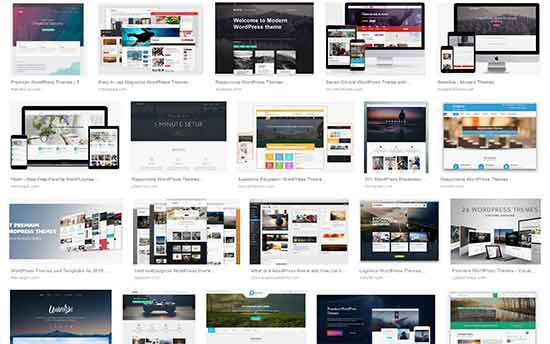 In business, your website is a must have asset. Using WordPress for websites helps you create a professional-looking website in an afternoon or less that performs powerful functions unique to your needs.
You website is where potential clients will find and get to know you. It's the first place referrals will turn to learn more about you. It's where you'll sell your products and services, invite contact requests, brand yourself in your niche, and show off what you know.
It might also be where you host your webinars, offer group coaching programs, publish a podcast, create a blog, and even set appointments with clients.
You NEED your website to do a LOT of things. And if you choose a versatile content management system such as WordPress, you can easily incorporate those tasks and so much more.
I've been using WordPress for websites exclusively since 2010, both for myself and for clients. I'm a WordPress snob and I have no shame in admitting it!
Important to note that I'm referring to the self-hosted WordPress, NOT the "free" WP.com platform.
And because I do treat my website as an important business asset, that means I invest in SiteGround – a kick ass hosting service (annually to save the headache of monthly payments), purchase domain names through Namecheap.com, and I also invest in premium themes and plugins. But that's for a different post all together.
Why I use WordPress for websites
Fast and easy to set up
In the time it takes to finish your morning coffee, you can have a website created and live on the Internet using WordPress. Most hosting companies offer "one-click installs" for WordPress, meaning it will take only about 5 minutes to get your website up and running.
Even if you're not technically inclined, WordPress is simple to use and the install is painless. With a huge, helpful community of users, you can quickly find the answer for everything from "how do I install WordPress" to "how can I create a membership site" with just a Google search.
From there, it's a matter of choosing a theme and adding content.
WordPress is User Friendly!
Don't get me wrong, there is a learning curve. But everything has a learning curve!
Even if you use a freebie service like Blogger, WP.com, Weebly, and all the other so-called "FREE" platforms out there, THERE IS A LEARNING CURVE!!!
And, as with everything else, there are plenty of tutorials, forums, websites, mentors, teachers and whatever out there to help you. Being the website owner choosing to use WordPress, you NEED to invest the TIME to LEARN how to use it. That's just plain common sense.
Using the excuse "It's too complicated" tells me that you're lazy. That is incredibly harsh, but it's the truth! I'd rather people be honest.
WordPress is not too complicated! It just takes a little bit of time to learn. (Yes … I just repeated myself.)
You either don't know what you are doing and don't want to break something or you don't WANT to learn it. If it's the latter (not wanting to learn it) I suggest you have a pow wow with yourself and rethink the direction you are going. If it's the former, do what you need to do to learn how to use it. It's just that simple.
Your Site, Your Style
With thousands of free and premium themes available, it's easy to find a look that's just right for your brand and business.
I strongly believe that since your blogsite is an important tool for your business, you should invest in a premium theme. I don't knock free themes. But when you invest in premium themes, plugins for that matter, you get a higher level of help when you need it.
My go-to premium theme is Divi, the flagship theme by Elegant Themes. It gives me the power to create my sites any way I want them!
Now there are other ways to tweak WordPress through PHP, HTML and CSS to really customize your theme to totally fit your needs! That's how I do it! Because I'm a Geeky-nerd and that's how I roll! But I've also been building websites from scratch since 2000.
This can be complicated for non-techy peeps. And that is totally okay!
If the interest is there to learn it yourself, you have a ginormous amount of resources at your finger tips (WAY MORE that I did way back in 2000, that's for sure).
Or you can find someone to do it for you, by investing in their services of course, because it's tacky and rude to expect people to do it for you for free.
Greater Flexibility with Plugins
Originally designed as a blogging platform, WordPress earned its early popularity by making this rather technical chore easy for thousands of new bloggers.
Today it's no longer known as just a blogging tool. Instead, site owners use WordPress as the basis for:
Shopping carts
Membership sites
Sales pages
Personal journals
Online directories
Non-profit fundraising
Video blogging
Podcasting
News sites
Recipe blogs
Photography site
And dozens of others
The combination of themes and plugins make the possibilities nearly endless, so no matter what you need a website to do, chances are good that WordPress can handle it.
WordPress is Dynamic!
What does that even mean?!?
Dynamic websites are so different today than they were in 2008, I admit. But the gist is this: a dynamic website gives you the power of producing new content that keeps your website fresh in the search engines.
So when you publish a new blog post or create a new page on your site, you are telling the search engines that you have fresh new content to share with the World.
Even if you only publish a blog post once a month or add new pages every once in awhile, you are still creating new content. And that makes your blogsite dynamic.
Seriously?!? Why is there even a question?
There's a simple reason to go with WordPress: You can create a professional-looking powerful website in an afternoon or less that performs powerful functions unique to your needs. Pre-created plugins, widgets and themes can be installed with the press of a button—and its drag-and-drop easy, in most cases.
"But All That Tech Talk Makes My Eyes Glaze Over!"
I know it can be pretty overwhelming talking about building your own website, especially if you don't quite understand the difference between FTP and PHP, and can't even decide what color to paint your bedroom, let alone design a logo.
I get it, but trust me, WordPress makes it easy to get over these and other hurdles. With a solid foundation in place, you'll easily be able to:
Install a gorgeous theme that perfectly represents your brand
Upload images and graphics to grow your following
Connect with all your social accounts so you can build one central "hub" for your business
Create a client-attracting blog to position yourself as the authority in your market
…and so much more!