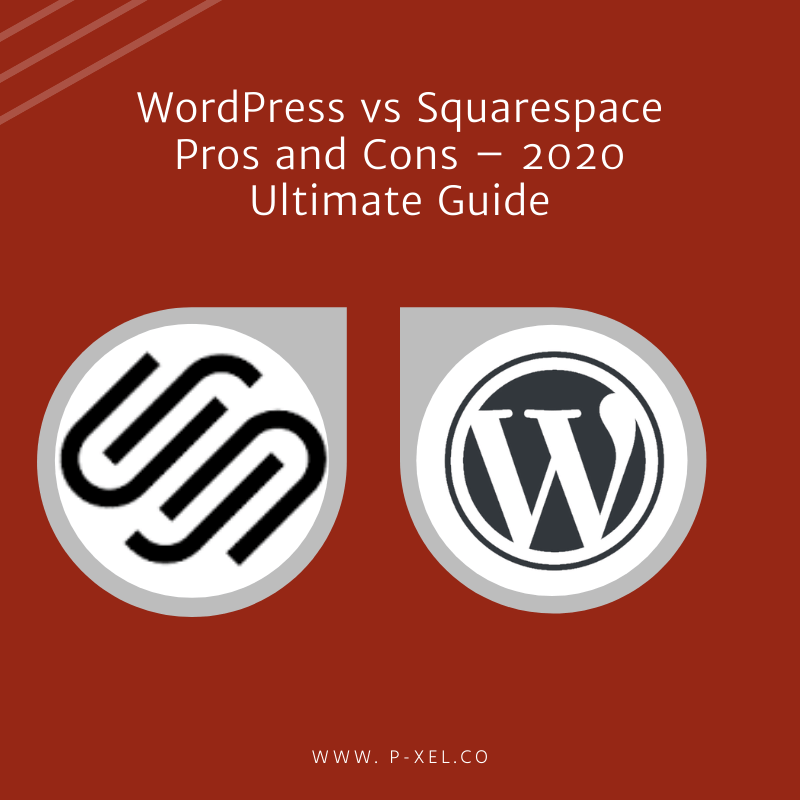 WordPress vs Squarespace conclusion
If you just want a beautiful website for your company, want it done quickly and want to be able to pretty much forget about it after you have published it, then choose Squarespace. You're in good hands.
If your website is a cornerstone of your business and your online presence, and you have big plans and needs, then choose WordPress and self-host your site.
WordPress is a much better long-term play and a very customizable and adaptable experience.
In order to self-host your WordPress, you need a web hosting account.
What is Squarespace?
Squarespace is a private, commercial company founded in 2003 and funded by venture capital.
It has more than 800 employees, it hosts around two million websites and has a market valuation of $1.7 billion.
And it all started with a $30,000 loan Anthony Casalena's parents gave to him in order to work on his business idea.
This is what Anthony said about the thinking behind his initial idea:
"First, I was frustrated that there were many different pieces of software that had to be integrated in order to create a website — page-building software, blogging software, hosting and website analytics software were all separate. Secondly, I was bothered by the fact that there seemed to be no products on the market that were paying attention to design."
Squarespace promotes itself as the "all-in-one platform to build a beautiful online presence".
They are targeting small businesses and aim to be their one stop shop for everything from getting a domain name, building a website, selling products, analyzing analytics to sending email marketing campaigns.
Squarespace makes it easy for anyone to create a great looking website quickly regardless of your experience or tech know-how.
Squarespace has a large marketing budget
Squarespace has a large marketing budget to work with which is probably why you might have seen or heard their ads across the web, your favorite podcast, New York Knicks jersey or even the Super Bowl.
The company has purchased Super Bowl TV commercials five years in a row since 2014 featuring stars such as John Malkovich and Keanu Reeves.
It seems to work and the company is profitable: "Revenue in the past year increased 50 percent to about $300 million, Casalena said. Squarespace isn't far behind Wix, which is expected to generate about $424 million this year."
So how does Squarespace work? It's based on pre-built design templates and drag and drop blocks and other website elements.
You first explore the different design templates available and pick one that you like for your website. Each template is broken down into different blocks.
Blocks are the individual elements of a website such as text boxes, images, galleries, buttons, charts and others. In the editing interface, you can edit and customize your chosen template and the contents of the individual blocks.
These blocks are something you will be familiar with if you have explored the Gutenberg editor in WordPress.
What is WordPress?
WordPress is the open source content management system. It plays in a different financial and marketing space from Squarespace.
WordPress may not have the money to run big marketing campaigns and pursue user growth at all costs but it is created and run by the open source community of passionate individuals who are creating different themes and plugins.
There are two versions of WordPress. The hosted version at WordPress.com and the self-hosted version at WordPress.org. The difference is pretty much like renting or owning a house.
WordPress.org is the version that I use to run this blog or to "own" my house. If you're confused about this, take a look at my WordPress.org vs WordPress.com comparison.
The open source community aspect is also something that makes WordPress very well loved and used.
WordPress is the clear winner in this Squarespace vs WordPress website builder comparison in terms of popularity and usage across the web. 32% of all the websites are hosted on WordPress while only 1.4% are hosted on Squarespace.
Is Squarespace expensive?
You can sign up for a 14 day free trial in order to explore Squarespace. The most basic subscription level costs $16 plus taxes per month if you're paying monthly. It's $12 plus taxes per month if you pay for the full year upfront.
If you want to be able to integrate ecommerce into your site or customize your design template using CSS and JavaScript you will need to upgrade to the "business" level at $26 plus taxes per month or $18 plus taxes if billed annually.
Squarespace is positioning itself as a premium website builder and is more expensive when compared to other site builders and much more expensive when compared to the free WordPress.
In general, the price difference with WordPress is expected considering that it is a hosted and all-inclusive platform.
This means that everything is taken care for you. Squarespace worries about hosting, security and maintenance. You just run your business.
What is the cost of WordPress?
WordPress is a free and open-source software. You can use it for free to run any website that you wish.
It is a self-hosted software which means that you need to register a domain name and find a web server on which you can upload WordPress and your content.
This is in order to make your site visible and accessible to anyone with an internet connection. The shared web hosting services start at around $2.95 per month if you pay for the full year upfront.
On top of the hosting server cost, you do not need to pay for anything else. WordPress community has created thousands of free design themes and plugins that can extend your site to feature any functionality that you can think of.
If you can find a theme that you love and add a plugin or two to that theme, you are all set.
WordPress can be as cheap and as easy as that. But if you have some really unique needs that do not exist in existing themes or plugins, you may need to build those yourself (or hire someone else to do it for you).
This potential hiring of external resources and services can make WordPress expensive.
Squarespace vs WordPress SEO
Both Squarespace and WordPress do the basic SEO well. You will not be penalized for hosting your site with Squarespace but it will not give you any head start either compared to other web builders.
The key for your SEO performance will be the quality of content that you publish, how well it resonates with the audience you are targeting and the number of links and social media shares your marketing activities will bring to your site.
Squarespace vs WordPress: Which website builder is best?
In terms of flexibility, extendibility and the freedom to create anything that you wish, WordPress has a big lead on Squarespace.
Squarespace is increasingly targeting the niche of small, offline businesses such as restaurants owners and wedding photographers.
They mostly have no tech ability and want a quick and simple way to create a beautiful website on which they can present themselves, promote their business and even get some leads.
These are not necessarily advanced websites and only "about 100,000 of the almost 2 million paying Squarespace subscribers are using commerce tools."
Squarespace is a great option for those who are more than happy just to use one of the existing templates, add some copy and images and a contact form.
This allows you to have a basic but nice looking web presence for your business. And for minimal effort and time invested.
Squarespace is not ideal for people who want to dig deeper and build something that is way different from the available Squarespace templates.
It is way too restricted in terms of design and functionality when your needs go beyond the templates that are available.
If you want something that doesn't look exactly like the different templates that are on offer, WordPress or even some other site builder alternative is a better option.
One critique I have for Squarespace websites
One critique I have for Squarespace-made websites is the speed and loading time.
Due to the heavy use of large graphics and JavaScript, I find Squarespace sites usually slower to load than the average business website that I visit.
The main focus of the different templates available is to provide you with a simple and non-tech way of having a beautiful looking site.
This leads to slow, heavy and bloated sites that are not ideal in the mobile-first world where most people get too impatient and click a back button even if they have to wait for a couple of seconds for a site to load.
This slow loading time may not be ideal for your search engine optimization either. Just something to keep in mind if you're on Squarespace.
Another thing you need to consider when choosing an image heavy Squarespace template is that images are essential.
These templates are only as good as the original, high quality images that you have available for you to use for your business purposes.
If you don't have original, eye catching images to use, you may consider a less image-heavy template. I would recommend to avoid stock images as they may not give the best first impression of your brand.